Collective worship is very important to year six. We regularly get together to pray, listen to stories from the bible or meditate and reflect on our lives as young Catholics.
We love to write! On World Book Day, year six looked at the story Journey by Aaron Becker. We worked in groups to produce some stunning writing about the setting.
Huge thanks to all the parents that attended the Parents Morning on Tuesday the 13th February in Year 6. The children carried out some really good acting to show how they would deal with cyberbullying and we hope the parents took something away regarding keeping their child safe online. Thank you and see you soon.
After the excitement of Thursday's visitor, we had another important visitor. CBBC's Katie Thistleton enjoyed her first visit to school so much that she came back to hold a question and answer session for year 6. She even signed copies of her new book for all of us.
We had a number of visitors to school this week. One extremely important visitor, Bishop John, stayed to watch our assembly and visited us in class. Our liturgical ambassadors also gave Bishop John a tour around the school.
Here are our lunchtime helpers. They have been doing such a great job. By ensuring our food waste is less, we can help support causes in Kenya where children do not have the luck we have been blessed with.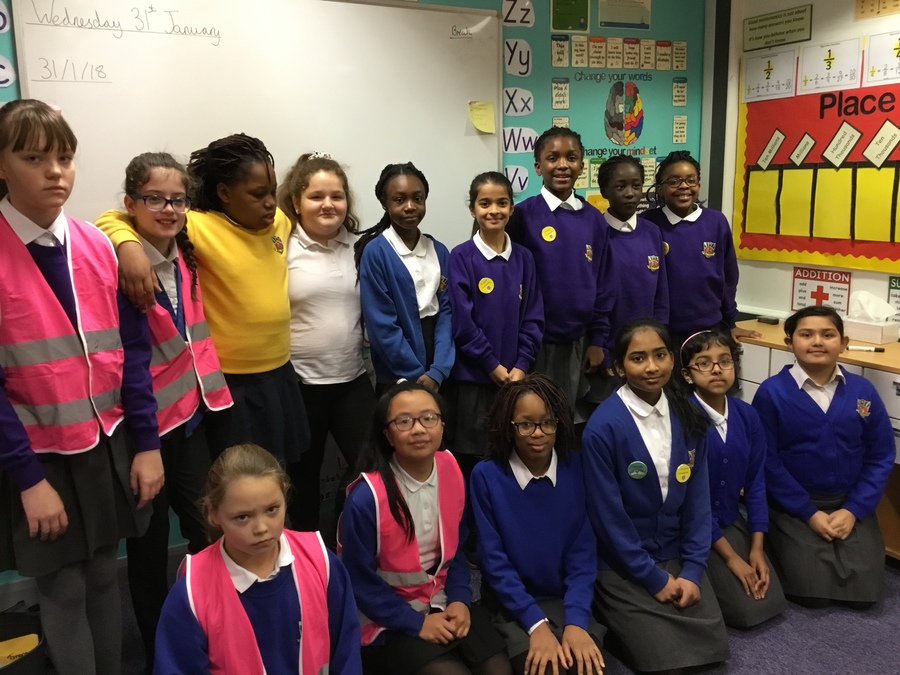 Congratulations to our amazing UNICEF ambassadors! We have also been doing lots of writing in relation to UNICEF and our class novel.